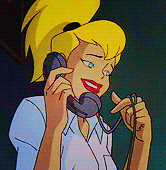 Either you've called/messaged "Dr. Harleen Quinzel" or you're calling Harley Quinn. Either way your messages will get routed to here!
"This is Dr. Quinzel. I'm out of the office at this time. If this is an emergency please call the hospital. Otherwise please leave a message and I'll get back to you as soon as possible."
Or
"HIYA! It's me Harley! I'm off saving the world so leave me ya message, a joke, or something saucy and I'll get back ta ya ASAP!"